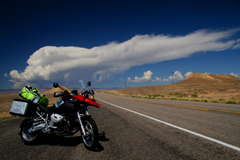 Once I finally got the new BMW [courtesy of BMW of North America] I decided to take her for a spin. Riding to Arches National Park and Monument Valley was a long time dream of mine so I started out thinking of hitting Utah's Moab area, as it is glorified in some of my riding guide books, drive through Monument Valley and some how drive back trough New Mexico.
Seeing as how I started the ride after a night shift I didn't have a real solid plan but trusting my GPS I thought I should be able to pull it somehow. [Garmin, take me home….]
The trip took me 8 days and covered some 3500 miles. I totally loved it. The Beamer was awesome on and off the rode and I got more and more use to it. [It is still a challenging bike for me, this is a big bike!]
I rode through some thunderstorms and when I got to Grand Canyon I got caught in a Hail Storm. Never the less Grand Canyon was defiantly the highlight of the trip. I waited the storm at the northern rim lodge, boy this place was awesome, I will try to stay there next time.
***