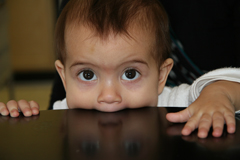 Eating.
Seems that Tal is into eating now, eating anything and everything.
Unfortunately though to her mother's dismay it is everything, anything, as long as it is not an actual food item. So tables, sofas, plates, remote controls. Nothing, nothing escapes her 2 sharp teeth especially Cell Phones.
Cell phones are her absolute favorite food.
Must be an Israeli gene
***