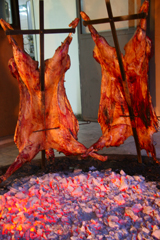 All I really wanted was a good steak.
For years I heard of Argentina, the land of the mighty Asado as the best place in the world for this carnivorous pleasure.
I wasn't really sure what Asado actually meant, I heard of some meat being grilled slowly, buried with charcoal overnight, really I had no idea. I knew it was good and I knew I had to have it.
Being that the Argentinean economy collapsed in 2001 the prices in "Paris of South America" fell from the previous stratosphere to the ground so I booked a flight.
Buenos Aires was great and the Asado, the ASADO was awesome! I am not sure if it is the free roaming caws [happy caws taste better?], the way they grill it, the wine that comes with it or the $3.00 price tag for a hunk of prime Lomo or Bife de Corizo. Be that as it may – I got my money worth.
Since a man can not leave on beef alone [really?] I also went traveling some.
For the first week I flew down to Patagonia's El Calafate and visited
For the second week I flew to the Northwest Andeans, stayed in Salta, rented a car and traveled to:
If I thought National Route 51 was challenging, Route 40 really separates the men from the boys. The men from the boys or almost the frame from the body of the little Corsica I was given, courtesy of Hertz Rent a Car, to practice enduro riding on tiny four wheels.
Now that I survived the chalanges of the rods, tasted the beuty of this vast country and gained 10lb confirming that Asado is indeed the best steak in the world, I am tempted to travel here in a better, safer and more complete way. I am tempted to travel the length of mighty "Nacional Ruta 40" from the Bolivian border to Tiera Del Fuego the right way, riding it on two wheels…
***